If you're a business owner interested at all in your marketing efforts, then I'm sure content marketing is a term you've heard pretty regularly lately. What exactly is it, though, and what does it mean for your business?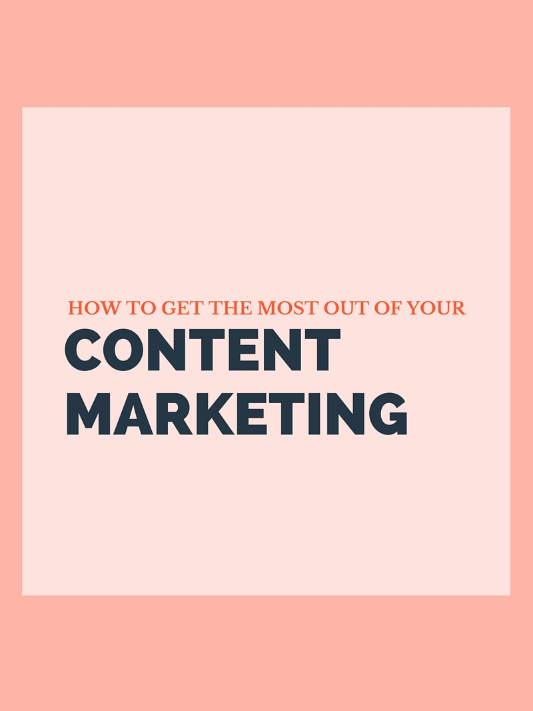 In short, content marketing is a way for you to provide value and content to your audience aside from your products or services. Or in other words, the way forward.
By providing free and relevant content to your customers or clients, you set yourself up as an authority in your field. When you provide helpful tips, smart and unique suggestions, and naturally entertaining pieces, you're automatically creating trust with the consumer and a relationship that extends beyond your product or service.
Let's look at how Anthropologie rocks their own content marketing on Facebook, Instagram and their blog.
Anthro ultimately has something for everyone, and they know this. They are extremely tapped into their customers – they know they're the cool, fashionable, modern woman who appreciates a well styled home and closet, yet there's wiggle room for personality differences in their market. To appeal to the various types of women they cater to, from polished to more bohemian, to young moms to the cool fifty year olds, they often show how the same product can work for different personalities.
Like this simple plate, for example. Had they only posted the bottom right hand photo of the plate, I most likely would have looked, I mean scrolled, right past it and thought "huh, an Anthropologie plate that's totally not my style, okay" and moved right along. Instead, they stopped me in my tracks by providing a beautiful and useful collage of photos that demonstrate just how versatile this plate is. They don't stop with just the Instagram post though and instead direct you to their blog where they break the place settings down and tempt you with even more gorgeous products. If I was a bride thinking about registering for this product, but maybe thought the plate seemed a bit too bland and boring, and then I saw this image clearly showing how it can be toned down, brought to life, and mixed up in different ways? Sold.
This is such a simple and smart way to market their product, provide bite size, useful styling tips and set themselves up as the experts and leaders in their market.
They take it one step further with a recent athletic wear campaign on their Facebook page and blog.
First, they're getting your attention with this photograph of this cute girl in her cute workout gear. Then they're using a call to action that they know will appeal to a large percentage of their target market: new mamas. They've done their research and know that a plethora of their customers are new moms concerned with getting back into shape, yet are most likely struggling with how to balance it all. They call the problem right out with a call to action that clearly shows they get it, and will be hard to ignore: "new mama Shannon … with sage advice on balancing it all."
Any style conscious, sleep deprived, brand new mama is bound to click the photo because hello, they wanna look as put together, healthy and well rested as her too! Once over on the blog post, Shannon (that cutie up above) joins in on a conversation with Anthropologie about how she stays healthy and sane, what her favorite cheat meal is (it's sweet potato fries, by the way), her favorite type of work out, and what her favorite workout clothing from Anthropologie is. The post is selling you without selling you. Her cute pictures will be re-pinned and re-posted a thousand times. This blog post will live forever, and the sales will keep on comin' in from it. Content marketing, when done well, sells your products and services without even trying.
As our digital worlds only continue to expand, the desire to communicate with the brands and people we love in a personal way and on a platform that we already use, and enjoy using, is paramount. How are you meeting your customers on these platforms, right in the middle of their lives and their situations, and adding sincere value to their experiences and joining in on their conversations?
I'll be taking a closer look at some brands that absolutely have the whole content creation thing down over the course of the next few weeks. Join me over here on the blog for more detailed conversations and peeks into what works and what doesn't, and don't forget to sign up below for the newsletter where Verb House dives super deep and gives away tons of exclusive content. It's a good one!
Until next time,
VHC