Ayyyyy yi yi yi – I hear September is the month of treats.
No? Well, around here it is! And this month you get a fun little one – the exact September Instagram Content Calendar + Guide that all of our members get each month in the Bespoke Content Club.
No tricks, no gimmicks, no "enter your email address to download the guide!" – none of that B.S., just a straight up treat from me to you.
So let's hop to it. Enough fluffing around, right?
Here's how to use the Content Guide down below:
First things first, I'm just gonna go ahead and say it: No one says you need to post on Instagram every single day. Not at all. Well, actually, no, a lot of people do say that but I'm here to give your brain and content a break and tell you no way Josè, no need to post every single day. If you want to then, by all means, carry on my little content queen. But if you're more of the "three to four to five" times a week lady, then this here guide is right up your alley.
Secondly, this guide is here to help guide you on Instagram. You do not need to choose every single content idea in the calendar, or you totally can – you're a free whoaman.
For Bespoke Content Club members, these content ideas are meant to act as supplements to the custom photos and custom Instagram captions they receive each month as a BCC member.
If you find yourself feeling inspired to take more action with this guide, then SAWEET! Get at it, my friend.
Most of these ideas work for both standard feed and Stories posts. Choose which feels the most you and work it out for that format.
Make sure you read the post details below to get a better understanding of how you can make this content guide work for you and your brand. It's all in the details, baby cakes, allllll in the details.
SEPTEMBER CONTENT GUIDE for BESPOKE CONTENT CLUB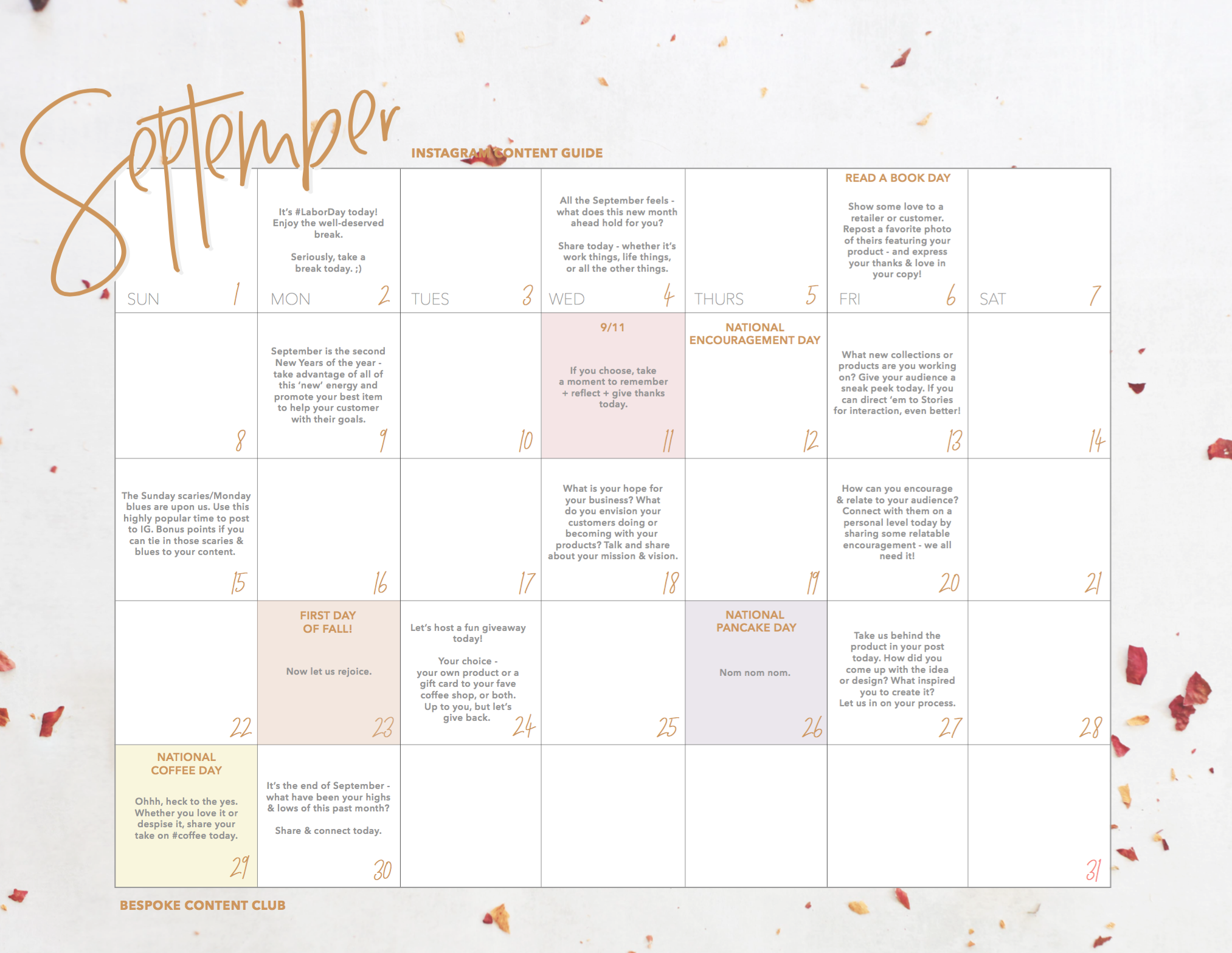 IT'S ALL IN THE DEETS
Sunday, Sept 1st / Monday Sept 2nd. – An unofficial prompt here, because I'll always encourage you to say hello and welcome a new month, but this one happens to fall on a Sunday / a holiday weekend – one that you 100% DESERVE to take some time off for, even though as an entrepreneur, I know it's hard and you may even forget that Monday is indeed Labor Day. IF you feel called to, welcome the new month today or let us know what your, Labor Day weekend/day plans are – then log off and go enjoy your life. 🙂
Wednesday, September 4th – Okay, now here's your official call to welcome the new month ahead. What do you have going on during September? Whether you're excited about some new work opportunities or ideas, or you've got some fun things coming up in your 'personal life' this month, share with us!
Friday, September 6th – True fact: we all want to be loved and appreciated in this life, and as you know, in business, too. Your retailers – the ones who CHOOSE to order from you and help support your biz – want to feel appreciated and seen too. If anyone has taken a particularly lovely photo of your items in their shop lately, repost their image & give 'em a shoutout.
It's also 'Read a Book' day today, which you can bet your bottom dollar I'll be partaking in, but if you have a specific item or post that works great for today, do it! You can recycle this post idea for later in the month.
Monday, September 9th – There is LOTS of back to school energy in the air right now. Some even say that September is like the second New Year's of the year – everyone is back from summer vacay and ready to hunker down and get back on track with their goals. Use this energy to encourage your customers/friends/audience with their goals or thoughts or energy. If you need specific help thinking of what item or content you could post that would fall into this line, holler out in the FB group and I'll pop in and give you some ideas.
Wednesday, 9/11 – Remember + reflect today, if you feel called to.
Friday, September 13th – What do you have in the works behinds the scenes over there? If you're working on a new collection or finalizing any collaborations or even just brainstorming, let us in to see and partake with you.
If you can even post some sneak peeks or hints in Stories, use the various Stories features to encourage interaction, such as the "Poll" sticker for something like "DO YOU LOVE THIS NEW DESIGN? 'HECK YES/MEH'"
Using all of the Instagram features available to you – Stories, stickers and features within Stories, can help you out amongst the ever changing algorithm – the longer people spend on your content, the more 'favorable' it is. So go ahead and play around with the features available to you today.
Psssst – It's also Friday the 13th – watch out, things could get freaky!
Sunday, September 15th – Sunday Scaries are a real thing. Whether you're working a cubicle job (and hey, for the record, there is nothing wrong with a traditional corporate/office job, okay?) or you've got your own self imposed deadlines to meet this coming week, you know what the Sunday Scaries/Monday Blues are. Use this highly popular time (Sunday evenings) on Instagram to connect with your audience on this topic this evening. If you can tie in your own product to your post, even better…. This could look like an encouraging or hilarious or witty card, a motivational art print or a simple quote you designed. Or a gorgeous photo that has nothing to do with the copy at all, which will most likely be how it is in my case. 😉
Wednesday, September 18th – What's your big, overall, kind-of-scary-to-say-out-loud vision & mission for your brand and company? What do you hope your customers feel when they hold your products in their hands? What do you want them to say to their best friend or their mama or their husband or their partner about your line? Share THAT today. Remember, we buy from people – people that we believe in, that we share the same mission or vision as, or that inspire us to be the person that we want to be. You've got to share this + inspire them to jump on board your crazy ship once it's time to go sailing (aka once it's time to buy).
Friday, September 20th – How can you connect with and encourage your audience today? Maybe you dropped your cupcake on the floor last night and you almost wanted to break down in tears but then you realized that's just how it goes – sometimes life feels like an upside down cupcake on the floor – splat – but you can still pick that dang cupcake up off the floor and enjoy it… just dust the icing off first, okay? True story here…. but see what I mean? Use storytelling or your own products to connect with and encourage your peeps today – in whatever capacity or form that may look like.
Monday, September 23rd – It's the first day of fall and all basic white girls everywhere have never been happier.
But really, may we all rejoice today.
Tuesday, September 24th – Let's ride the "it's officially finally Fall" high all week long. If you can, host a giveaway today. Your own product or a fun combination of your favorite fall things. You can even partner up with a couple of other brands you love to do a "thank goodness it's fall" giveaway together – you each throw in one of your own products. Have fun with this one and get creative with it!
Thursday, September 26th – National Pancake Day? Well, yes, please. Indulge or not, up to you, of course, but use this fun/silly 'holiday' to connect with your audience. Standard feed or Stories both work well!
Friday, September 27th – Take your most recent favorite child – I mean product – and walk us through how you created it. Who or what was it inspired by? When did the idea come to you? How long until it actually became a real life tangible product? Let us in today!
Sunday, September 29th -And all the coffee lovers everywhere said "hallelujah, fill 'er up!" It's National Coffee Day, today! Have fun with this one – post the perfect appropriate product if you've got it, tell us your take on coffee – hate it or love it or barely drink it -, show us your favorite local coffee shop, tell us your go-to order. Just have fun!
Monday, September 30th – It's the last day of September (!), you know what that means… It's high/low time.
The end of every month presents a very opportune time to share and genuinely connect with your audience in the form of what I like to call a high/low post.
By reflecting on both your highs and your lows from the month, this allows you to show the more human side of your brand and allows others to connect with you, and eventually, the more you consistently post your highs/lows, will be a piece of content that your audience will come to look forward to.
Share 'em today!
---
I hope you find this Instagram Content Guide helpful, and if you need any help at all, just shoot me a DM on Instagram or tag me using #BCCcontentguide and I'll pop in to help ya however I can.
Forge ahead, you, and may Instagram not drive you absolutely bonkers this month!