If there's one thing that I'll try to encourage you to do this holiday season, besides be thankful and stop and reflect and blahblahblah, it's to Shop Small.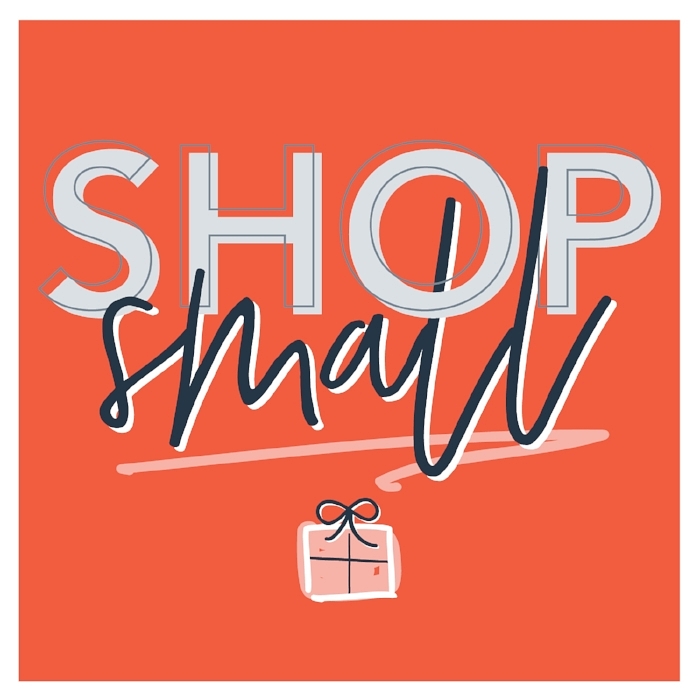 If you're unfamiliar with the term Shop Small, it's a movement and a mission created to support small businesses across the country. When you Shop Small your dollars are more than dollars; they're encouragement to a self-doubting business owner, they're a nod to the dream they're working so hard towards. They support a family, a business, and an individual. And if you shop local AND shop small, your dollars are going right back into your community.
I know it can be so tempting to head to Target or Anthropologie or what have you, but please take the time and go that little bit extra of a step to Shop Small and support your community and small business owners this holiday season. Because fact: some small businesses make the majority of their yearly revenue during the holiday season. Your purchases and support will be felt for months, and hopefully, for years, to come.
My hope is that you will use the below gift guide to get you started thinking and shopping small these next couple of weeks before Christmas.
From left to right, top to bottom:
1.) I gave this magical little book, by small business owner and author Moorea Seal, to my bestie last year and you should give one to yours this year. It's the perfect gift for that thoughtful, journal loving friend of yours.
2.) I LOVE the vintage online shop Lyon + Finch. Melissa manages to find the most charming vintage pieces that seem as useful as they are fun, and this African Striped Basket is just that. It would look beautiful sitting on an entryway or coffee table.
3.) Okay, this lipstick looks orange, I know, but it's actually a "mood changing" lipstick. I kid you not! Swipe it on and it will change to a beautifully perfect color that's perfectly matched to your skin tone. And it lasts FOREVER. Like all dang day. It's amazing, and you can shop it at Pop of Pink, which is owned by an even more amazing woman in my hometown. Seriously, go get all three colors for yourself + your mama + your aunt + your friends + your work wife.
4. How cool are these evil eye hoop earrings? I wear at least a minimum of two pieces of jewelry from designer Asha Patel Designs every single day. I love all of her gorgeous pieces.
5.) My husband and I fight over this super soft and crazy cuddly throw blanket from Modern Burlap all the time. It's by far my favorite blanket for movie nights, sick days in bed, work sessions on the couch, everything. It's just seriously the best blanket ever. You need it. So does your brother or husband or bff.
6.) This little wooden spoon from Belle & Union Co. is engraved with "hey there sugar" and I LOVE IT. All of B&U's pieces are made in the USA and this cutie spoon is hand carved in Indiana. Fun, right? I love to gift this little guy with a bag of coffee or a cute mug.
7.) Oh wait look, speaking of coffee! I like to work from a local coffee shop around the Austin area quite often, and Summermoon has quickly become my go-to. Send a bag of this coffee to your most coffee snobbish friend or relative. It won't disappoint and you'll earn bonus points in their eyes for knowing your coffee.
8.) This little ugly sweater (shop owner & artist Krista's words – not mine!) ceramic ornament from Her Name Is Mud is probably the most charming ornament anyone will receive this year. Isn't it just so stinking cute?! These would make great Secret Santa or White Elephant gifts.
9.) Give this super inspiring latest issue of Bossladies magazine to that go-getter dreamer girlfriend, sister, or niece of yours. I would have been crazy excited and spent the rest of Christmas day devouring this magazine (more like a beautiful mini book that they'll keep forever) if it had existed back in my teenage years and been under my own Christmas tree.
10.) Really want to be there on Christmas day but can't? I feel ya. Send the ones you're missing and who are missing you one of these gorgeous bouquets from Farmgirl Flowers.
Happy shopping small, y'all!
P.S. – Need even more gifting inspiration? Take a look at a few of these Shop Small Gift Guides, too!
The Identite Collective's blog is currently home to a few amazing gift guides. Don't miss these ones!
If you're an Austinite then get yourself over to my girl Maggie Gentry's blog pronto – she's rounded up her favorite local Austin businesses for those of us in the 512.
The Rising Tide Society's Holiday Gift Guide is chock full of so many gift ideas from makers everywhere.
The insanely adorable and talented Austin photographer Chelsea Laine Francis (and my #girlcrush) has put together several fun gift ideas broken down by recipient (hello adorable Cactus tote!).
Wit & Delight never fails to pull through with the most stylish and fun gifts year after year.
Heyyyoooo Yellow Co.! There are several pretty fabulous Gift Guides from Yellow Co. this year. (mom? dad? husband? do y'all even read this blog of mine?! if you do i'll take everything on the Freestyler guide, please!)